Dorel
Hypsos is designer and builder of temporary exhibition stands and is one of the oldest partners of Mansveld Expotech. Due to years of experience and trust in the creativity of MX, many assignments of Hypsos are outsourced to Mansveld Expotech. For Dorel's stand at the Kind + Jugend fair in Cologne, Expotech was asked for rigging, power supply and audiovisual equipment.
Dorel is a traditional Canadian company with, among other things, a youth line that includes a number of well-known brands such as: Maxi Cosi, Quinny and Tiny Love. For the Kind + Jugend fair in Cologne, the wish was to draw attention to their new line of products, but also to give a warm feeling to the visitors of the stand.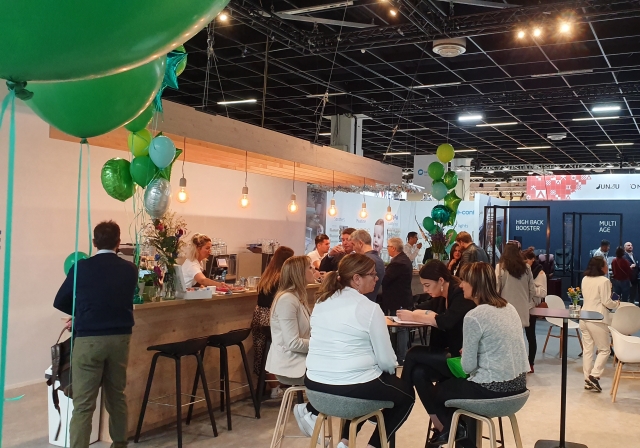 Audiovisual
The stand partly consisted of a stage where presentations were given. On screens at the entrance of the stand, a countdown timer indicated the start time of the next presentation. On the stage itself we installed an Interspace soft countdown clock so that every speaker knows exactly how long his presentation was allowed to last. To give the presentations extra power we installed RGB LED fixtures in the back wall of the stage, which changed with the colour scheme of the presented products.
Truss and rigging
The truss and lighting have been delivered in a black color. Because of the black colour, the attention is removed from the technique and the experience of the stand is improved.
Advice
For the presentation of the products, we advised Dorel to highlight their products with floodlight fixtures with a cool colour temperature in order to get a good connection to the younger target group. Floodlights also provide less shadow and better general lighting than spotlights.  
To give people a feeling of safety and security in the lounge area of the booth, we recommended applying a warm colour temperature to the lighting. After the fair we received many positive reactions about this advice.